Lifetime Peace of Mind
Yale is the UK's most recognised and trusted name in the locking industry and at Croft Glass we understand that security is top of the list when it comes to choosing new windows and doors for your home.
The windows and door locking solutions provided by Yale far exceed the latest industry performance standards. Furthermore all windows and doors manufactured with Yale products and provided by a trusted installer of Yale Hardware will be protected by the Yale Lifetime Security Guarantee.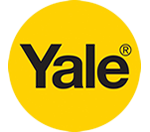 Homeowners can rest assured that family and possessions are protected by a leading name in home security.
SECURED FOR LIFE
Protection where it matters most
HOMEOWNER BENEFITS:-
Up to £1000 towards home insurance excess
In the unlikely event of a break-in, Yale will pay up to £1000 towards your home insurance excess to make sure you're not left out of pocket.
Up to £1000 towards repairs or replacements
Yale products are always designed to stand the test of time. That's why if a Yale component fails, they will pay up to £1000 for repairs or replacements.
£1000 compensation
If a break-in caused by a failure of a Yale component, Yale will do all they can to make it right. That includes paying £1000 compensation to apologise for the distress caused.
Up to £250 refund on all call-out fees
With the Yale Lifetime Guarantee, you are fully covered if the worst should happen. Yale will even refund call-out fees to secure your home if a break-in occurs due to failure of a Yale component.
10% Discount on security products
By registering for your Yale Lifetime Security guarantee you can enjoy a 10% discount code for use against Yale security products purchased online at www.yalestore.co.uk