WITH ITS IMMACULATE GLAZING AND ROBUST PLASTERED WALLS, LOGGIA OFFERS THE STYLE AND SOLIDITY OF A WELL-CRAFTED EXTENSION!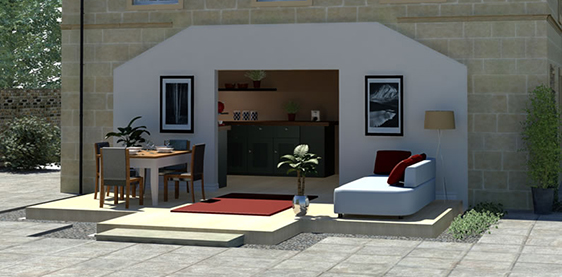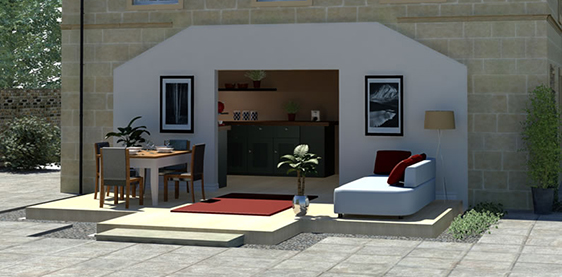 Affordability
The price point is considerably less than an extension and more comparable to a conservatory the finished effect will exceed all your expectations at a very affordable price.
Comfort
The comfort levels of a Loggia surpass those of any conservatory whilst light levels exceed those of a standard extension, giving you the best of both worlds!
Intrinsic Qualities
As you would expect, Loggia bathes you in an abundance of natural light from the sky but combines this with the reassuring strength of solidly constructed plastered walls.
This makes it far more substantial than any conservatory or orangery, giving you a 'real room' living space. In fact, an extension! What's more, it's a room you can live in all year round, thanks to Loggia's unique optional radiant heating system.
Unlike conservatories that require expensive under floor heating or radiators with unsightly pipe work, Loggia heating is compact and completely integrated, neatly concealed in the 90 degree columns which run from floor to ceiling, offering fingertip control via a wireless controller.
Style and Solidity
The Loggia Extension combines the elements of light and sky with the solidity of corner columns, possessing real inner core strength, plus internal plastered walls and ceilings just like any normal room with traditional masonry elements.
It's advanced roof and window glazing possesses excellent U-values, making it warmer and cosier in winter and cooler in summer.
Loggia's full height columns, depending on locality, feature additional structural steelwork and are anchored to the foundations for absolute structural integrity, making it four times stiffer than a conventional conservatory.
The columns are super-insulated with a core of Styopor carbon-enriched EPS, giving exceptional insulation and strength. On a four column Loggia heating costs are less than half that of a conservatory and on a 7 column Building Regulation compliant Loggia, costs are reduced by almost two thirds!
Columns can be sited in a number of places around the perimeter – at 90 degree external corners, in between frames, either side of door openings or at the abutment to your property.
Columns that sit next to the existing wall (abutment columns) have an integrated hidden 'pocket' where a rainwater pipe can be concealed to drain the roof. Much better than having unsightly wall -mounted rain water pipes.
Additional detailing is available at the base of full height columns with a range of options to harmonise with your pathways and landscaping.
Unrivalled Choices
Whether you're into a minimalist look or want to maximise the wow factor you'll have the opportunity to create your dream extension to suit your budget!
Depending on the look you choose, your columns can be full height or sit on a low wall. They'll be a striking feature of your front corners but could also be situated at the rear corners too, against the walls of your home. The choice is yours.
You can choose from a distinctive colour palette of classic white, landmark green, pure cream and urban grey, to compliment or contrast with your existing colour scheme. The addition of a cornice is a stunning option that will add individual style to your new loggia. The elaborate detailing adds height and presence and produces a spectacular impression of design finesse.
There are also a number of wall and glazing options. Enjoy a choice of French or bi-folding doors, full height glazing or window frames which sit on a sill with masonry underneath, and factor in true design flexibility with frame options in casement style or vertical sliders, double or triple glazed.
With Loggia, everything fits beautifully into place. The internal ceiling is the perfect place to house spotlights or down lighters.
Cables for speakers, telephones, broadband and any other necessary wiring can also be easily distributed within the Loggia design.